Sell My Car in Essex
At Cars Under 3000, we take pride in our commitment to providing exceptional car finance solutions tailored to your needs.

Our dedicated team of finance experts in Essex is always ready to assist you with your enquiry. Whether you're a first-time buyer or looking to upgrade your vehicle, our specialists are here to guide you through the car finance process seamlessly. We understand that securing the right car finance in Essex can be a daunting task, but with our experienced team by your side, you can navigate the options with confidence.


We offer a range of flexible finance packages designed to suit various budgets and preferences. Your satisfaction is our priority, and our team is dedicated to making your car finance experience in Essex smooth and hassle-free.
Complete our simple to use online form below and once submitted, we will get back to you as soon as possible.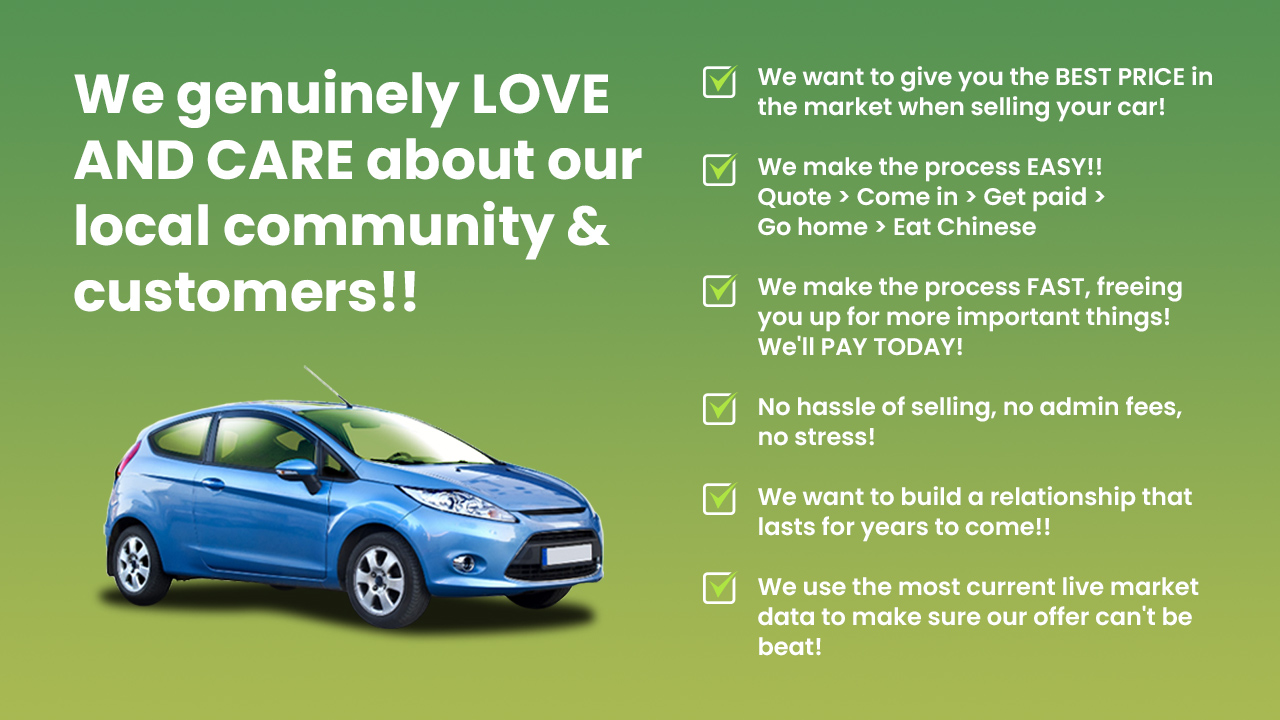 Title
Review content should be placed here
The Cars Under 3000 team in Rayleigh, Essex is made up of local people
We're a family run firm and we care about eachother and the local people of Rayleigh, Southend, Basildon and Essex at large. We know how hard life can be generally and so we do everything we can to make selling your used car as easy, straight forward and enjoyable as we possibly can.
We use live market tools to give you the best and highest possible price when selling a car
Whether you are selling a Ford Fiesta, a Honda Jazz or a transit van, whether you are selling a small car or a big car, whether you are selling a German car or a French car, selling a car with 7 seats or 2 seats… you will struggle to find a better price than we can offer.
Sell your car QUICK, QUICK, QUICK!!
We will happily give you a quote, view and buy your car the very same day! Within no time at all, you can be skipping away with cash in your hand or money in the bank. On arriving to site, you could be walking away again having sold your car in as little as 10 minutes!
We take the stress and hassle out of selling a car
We know selling  when the time comes isn't always easy, especially if you're trying to advertise, deal with the public and sell on your driveway all at once. We take all that stress away and can offer a quick price and a seamless transaction avoiding all that unnessesary faff. That leaves you with more time and money in your pocket to spend on far more important things.
Selling your car but cant get to our site? we'll come to you!!
If you are selling a car but for whatever reason can't get to us in Rayleigh, Essex. We are also happy to actually travel locally to view and collect your car. This means you can sell your car from the comfort of your own home in a few easy steps!
We have amazing relationships with thousands of customers from the local area
We buy cars from Basildon, Southend, Rayleigh, Wickford, Romford and also far beyond, with cars coming from all over Essex, in fact we buy from all corners of the United Kingdom. Whether buying or selling our customers return time and time again for Cars Under 3000's 5 Star service!
Sell us your car, no strings attached!!
Many of our customers are buying a newer or different car and selling their car in part exchange as part of the process. But this doesn't need to be the case. You dont have to buy a car from us for us to buy your one. Of course we will take your car in part exchange but we will also simply buy your car for cash, no strings.
Step 1
Get a quote by phone or through website
Step 2
Show us your car in person
Why Sell To Cars Under £3000
We make selling your car, EASY… taking all the stress, hassle and time out of the selling process.
We are a used car specialist dealing in vehicles valued between £500-£10,000. Its just what we do. Because of this, there is nobody out there able to provide the service and prices that we offer so readily. Our nationwide reputation is unrivalled. We might be positioned at the cheaper end of the used car market, but our customer satisfaction surpasses even the most prestigious of main dealers, proven by over 3,000 5 STAR reviews across the web.
We are well known across the county as one of Essex's best car buyers. We service the local people of Rayleigh, Basildon, Southend, Romford, Chelmsford, Brentwood and far far beyond.
We buy any car, any brand, any miles, we will buy your car, We give you the best price, And we will do it today!

Not looking to sell? View our range of used cars here!
About Cars Under £3000
Who Are Cars Under £3000
Who are Cars Under 3000, Essex?
We are a customer focused family business buying from and selling cars to the local community of Essex. Our history in the motor trade dates back over 40 years, and we believe by now we understand exactly what it is you want when it comes to buying and selling your used car!
We focus on being honest and transparent. We know how important TRUST is when it comes to buying and selling your used car. We cultivate relationships with our customers that last a lifetime.
We want to be your one stop shop for everything you might need in the world of motoring. We are happy to share contacts and our extensive trade network built over decades in the motor trade, to ensure you receive a service that can't be beaten.
What sets Cars Under 3000 Car buyers apart?
Our Cars Under 3000 team feels very much like a family. Our customers while with us quickly become an extension of that family. One thing that evidently sets us apart is that we genuinely care about our customers' experience. Because of this we want to give you the best possible money for your car. We are confident in our belief that we simply WILL NOT BE BEATEN by anybody in the market.
We're open 7 DAYS A WEEK and always on hand to answer any questions that might arise. We will COME TO YOU AND COLLECT the car from your home if needs be and can arrange for SAME DAY PAYMENT.
We have years worth of experience in dealing with financial lenders. We can still buy your car even if you still have finance on it. We can provide SETTLEMENT with your financial lender as a part of our car buying agreement and often even help customers who have found themselves in difficult situations where they are in NEGATIVE EQUITY owing more than the car is worth.
Whatever your situation, there are NO OBSTACLES we can't overcome. Give us a CALL TODAY to discuss details and lets make this happen. 
Do you buy cars?
Yes, we offer delivery of our used car models in Essex. Please contact us on the numbers at the bottom of the page to arrange this – we use a handful of certified drivers and may even be able to have the vehicle delivered the very same day! **Delivery is an additional cost on top of purchase price**
Where are you based?
We operate from two conveniently situated locations in close proximity to each other. Our original forecourt is situated at the Rear of Brookside, off London Road, Rayleigh, SS6 9ES, nestled behind the carwash and next to Swallow Aquatics. Here, we maintain an inventory of over 100 cars. Our second site and offices are situated on the former Gables Garage estate, just across the roundabout at SS6 9EY, opposite the Carpenters Arms pub, housing approximately 25-30 cars. Both of our sites are based in Rayleigh, Essex, easily accessible from the A13/A127, and a mere 5-minute drive from the A12. We take pride in offering an exceptional selection of high-quality used cars to the residents of Essex.
Monday to Friday – 9am to 6pm
Saturday – 9am to 5:30pm
Sunday – 10am to 4pm